Stacey Pitman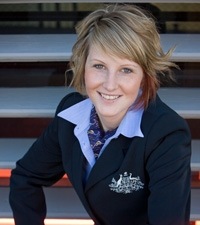 How did you get into the industry?
After finishing school in year 11, I needed to find a job. I was interested in Floristry and got a job in the industry and found myself enjoying every part of the work.
Would you recommend a trade/skill based career to others?
Yes, absolutely – it%27s very enjoyable and rewarding to be working in the Floristry industry.
How has WorldSkills Australia helped you so far personally & professionally?
Personally I have learnt a great deal, including meeting new people and creating friendships. Professionally I have people in the industry who are very pleased with my achievements and my success seems to interest most people.
Would you recommend others participate in the WorldSkills Competitions?
Yes I think it%27s a great start %22a foot in the door%22 and even just as a personal achievement it%27s something that definitely makes you feel proud of yourself.
What do you enjoy most about your job?
I absolutely love my job. I enjoy every moment of working with beautiful flowers and beautiful people. Having someone enjoy what I have created makes me realise that everything has a meaning, and whatever that meaning is – flowers are there to symbolise it. I%27m happy that I can help make others happy.
What do you hope to achieve in both short and long terms of your career?
My short term goal is to win gold at the WorldSkills International Competition 2009.
My long term goal is to be the owner of a successful business in which I will be
continuing to share my talent and make others happy.
Achievements
Western Australia Regional Competition 2007: Gold
National Competition 2008: Gold
Expert
Alan

Randell-Smith

Alan runs his own floristry business in Victoria and has been Chief Judge at the last four National Competitions in Newcastle, Brisbane, Melbourne and Sydney. Alan also judges Regional Competitions and has helped establish Floristry as a new category to the WorldSkills programme. Alan%27s words of advice to the Skillaroos are to %22stay focused, stay committed and stay true to oneself%22.