Nash Mason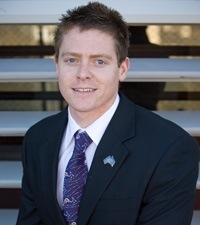 How did you get into the industry?
I got in to the industry through work experience at high school. I went to M&H to do work experience as an electrician and found refrigeration much more interesting. From work experience I was asked if I would like to start a trade in the industry of refrigeration.
Would you recommend a trade/skill based career to others?
Yes, I would recommend the trade of refrigeration to everyone as you gain a variety of skills which include pumping, electrical, sheet metal, and refrigeration. All of these skills are needed to be a good trades person in the refrigeration industry.
How has WorldSkills Australia helped you so far personally & professionally?
WorldSkills Australia has given me the confidence to believe in myself on the job and at home. The competition has shown me that I have what it takes to be a good tradesman and not to doubt my judgement. It has also given me the chance to go to Germany in October 2008, to visit the largest Refrigeration Expo in the world as a prize for winning gold at the WorldSkills National Competition.
Would you recommend others participate in the WorldSkills Competitions?
I would recommend to every single young skilled worker to go ahead and compete in a WorldSkills Competition in their chosen industry as it has opened up many opportunities.
What do you enjoy most about your job?
I%27m never in the same spot every day. I enjoy seeing all different work places and each day always brings something different.
What do you hope to achieve in both short and long terms of your career?
In the short term I hope to gain my trades certificate and license and in the long term I want to always be learning and would like to run my own business.
Achievements
Hunter Regional Competition 2007: Gold
National Competition 2008: Gold
Expert
John

Kuilart

John is Service Operations Manager for Teco Australia Pty Ltd and has been with WorldSkills since 1993 on all levels of competitions. In 2009 he is Chief Expert in the Refrigeration category. John%27s dedication to skills excellence and world class standards in the industry has resulted in four International gold medals in the refrigeration category since 1996. His advice to all Skillaroos is that they ensure they have %22done everything possible to achieve their goals%22.