Kyle French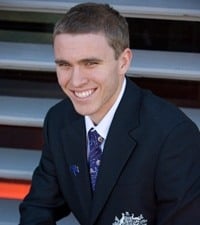 How did you get into the industry?
My Dad has had a big influence as he is a painter, I saw the things he does and wanted to follow in his footsteps. I commenced a trial with Wayne Wilson Painting, and after a period of time, Wayne offered me an apprenticeship.
Would you recommend a trade/skill based career to others?
Yes! The more qualified tradesman this country can get the better. How has WorldSkills Australia helped you so far personally & professionally? Personally the experience has bought out the competitive nature in me to excel in everything I do. Professionally, my employer now sees me in a different light and has given me more responsibilities to setup and run jobs.
Would you recommend others participate in the WorldSkills Competitions?
YES! This was a once in a life time opportunity to compete in a competition that gathered the best apprentices in the trade. The extra training I received in the lead up to the contest improved my skills for my everyday work.
What do you enjoy most about your job?
I enjoy just about everything from the early starts and early finishes, to the variety of jobs. No two days are ever the same.
What do you hope to achieve in both short and long terms of your career?
In the short term I want to learn from the best painters in the industry and in the long term I eventually would like to run my own business.
Achievements
Macquarie Regional Competition 2007: Gold
National Competition 2008: Gold
Expert
Ian

Vickery

Ian is a teacher at TAFE NSW, Hunter Institute, Newcastle Campus and was first involved with WorldSkills Australia as a competitor in 1989. Ian has since been Judge, Convenor and Designer for previous competitions and helped train the 2003 and 2007 International competitors in St Gallen and Japan. Ian will train Kyle to achieve gold medal standards. His advice to Kyle and Skillaroos is to train and compete as an elite athlete would.