Heh-Nian (James) Sun
International Result Gold Medal
Region Sydney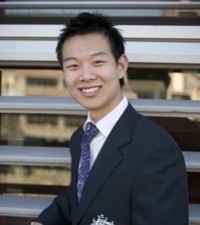 How did you get into the industry?
Growing up in a family of restaurateurs, I've helped out since I was young and enjoyed every part of it.
Would you recommend a trade/skill based career to others?
Yes! The hospitality industry is great because it's so diverse. You can work in different departments such as restaurants, bars, functions etc. It's not a repetitive industry as you get different guests each day and trying to adapt yourself to cater for the guests is the interesting part.
How has WorldSkills Australia helped you so far personally & professionally?
WorldSkills Australia has helped me to learn and appreciate the skills I had, and have now obtained through training. It has also provided me with more industry exposure that motivates me to try harder and perfect myself in everything I do. I am more aware and conscious of what I am doing right or wrong.
Would you recommend others participate in the WorldSkills Competitions?
Definitely give it a shot. You've got nothing to lose as the competitions provide you with training which means even if you don%27t get a medal, at least you know that you've been provided with training that puts you in front of others that haven't tried.
What do you enjoy most about your job?
Seeing guests leave with total satisfaction. What do you hope to achieve in both short and long terms of your career? I would like to apply the skills I have learnt and open restaurants of my own, starting with a small/medium business and long term I hope to expand this business and bring out something new into the industry.
Achievements
Sydney Regional Competition 2007: Gold
State Development Camp – Maitland 2007
National Competition 2008: Gold
Expert
Brigitte

Collins

Brigitte is a Teacher of food, beverage and event management at TAFE NSW Northern Sydney Institute, Ryde College. After being impressed by the standards and passion displayed at a WorldSkills Competition, Brigitte decided to get involved in 1997. She has been an Expert for the past two International Competitions (Chief Expert in 2009) and says that those competitors are now her extended family. Brigitte wants to show that Australia is best in the world in service standards by continuing to achieve results internationally.