Melissa Guiney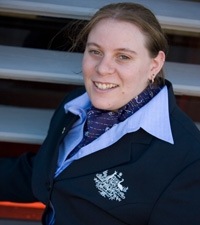 How did you get into the industry?
I was looking to complete work experience in the animation/cartoon fields, but didn%27t have much luck being such a narrow field. Graphic Design was suggested to me by a relative. I completed work experience with Bouquet Productions and went on to complete a further weeks work experience in year 11. I then became a Junior Designer. TAP Printing was then created as a sister company to Bouquet Productions; from there I started working and commenced my apprenticeship.
Would you recommend a trade/skill based career to others?
Completing a trade is a great way to get ahead, so I would definitely recommend it to others. You%27re getting paid to learn instead of the other way around. You learn how to do things properly from the people who have seen and done a lot. You are provided great insights into the industry almost more importantly – customer service.
How has WorldSkills Australia helped you so far personally & professionally?
WSA has built up my confidence. Winning and getting as far as I have has shown me that I actually am doing the right thing. It%27s opened up some great opportunities and to earn well recognised accolades.
Would you recommend others participate in the WorldSkills Competitions?
Yes! It%27s been a great experience and opportunity, I%27ve also enjoyed meeting new friends, building my confidence and just having a 'blast%27.
What do you enjoy most about your job?
I enjoy the opportunity to be creative, artistic and deal with a wide range of people everyday is different. When a client calls or emails to say thanks, you feel like you%27ve done a good thing. It%27s very rewarding.
What do you hope to achieve in both short and long terms of your career?
To teach at an institute similar to RMIT, run my own successful Graphic Design and Print Management business and I%27d like to travel and work overseas.
Achievements
Melbourne Regional Competition 2007: Gold
National Competition 2008: Gold
Expert
Sarah

Jones

Sarah Jones understands the feeling of representing Australia on the International stage following success in winning gold at the 2003 International Competition in St Gallen. Sarah has experienced the other side to the WorldSkills experience – she has judged, written competitions and assisted with training in 2004, 2006 and 2008 National Competitions. She was Chief Judge at the 2008 National Competition and has trained the last two International Competitors. Her advice to all Skillaroos is %22all you can do is your best, as long as you are prepared and have put everything in that you can, you could not ask for more%22.