Kallon McVicar
Training Institute: TAFE NSW Illawarra Institute, Wollongong Campus
Qualification: Certificate IV in Metal Fabrication
National Results: Gold Medal
Skillaroo Kallon McVicar is a talented professional with a strong determination to be the best in his trade.
How would you describe yourself in five terms or less?
Easy going.
How did you first get involved in your industry?
Metal Fabrication has always been around me growing up, as I'm the fourth generation boilermaker in my family. My passion for this trade started when I was in Year 10 – I started welding, cutting and marking out jobs with my grandfather in his work shed. This lead to doing TAFE courses after school on Wednesday nights.
Who is your mentor and why?
My main mentor was my Grandad – he started everything for me in his garage. He was always willing to give up time to help teach me new tricks of the trade every time I asked. My other mentors are previous WorldSkills Australia competitors from around my area. They are always willing to spend their own time with me at TAFE.
Would you recommend others to participate in a WorldSkills Australia competition? What advice would you give them?
Yes, I highly recommend WorldSkills Australia competitions to anyone that is willing to put in the hard work and dedication. There are many people in each category that wish to exceed in the competition. You can't compete and expect to do well if you don't put in the effort.
What do you hope to achieve both in the short and long term of your career?
I want to become the best welder in the world this year in Brazil and learn the most I possibly can during the experience. Later on down the track, I would love to give something back and help train the next Regional and National competitor. I would also like to become a welding inspector.
How do you feel about representing Australia in São Paulo, Brazil?
I am overwhelmed! It is an extreme honour to represent my country.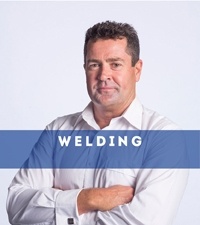 Expert
Paul

Condron

Chief Expert in Welding, Paul Condran is a seasoned WorldSkills Australia volunteer with a lot of insight and experience to give to others.

How long have you been involved with WorldSkills Australia?
15 years.

Why have you chosen to volunteer your time with WorldSkills Australia?
I enjoy passing on the skills I have learnt over the years of being firstly a competitor and now a Chief International Expert. Additionally, we are mixing with positive people that are all interested in elevating the skill level of our younger generation.

Describe how your involvement with WorldSkills Australia has benefited you personally and professionally.
It's the best thing that ever happened to me. To experience the involvement of WorldSkills Australia like I have has helped me immensely with my career and also with everyday life.

Would you recommend others to get involved in WorldSkills Australia competitions? What advice would you give them?
I would definitely recommend to any person either as a competitor or judge to get involved with WorldSkills Australia. Everyone comes away a winner. The skills that competitors attain through training will only enhance their opportunities throughout their working life.

What advice would you give to the 2015 Skillaroos?
Give the training everything you have, as you will only ever get one opportunity to represent your country at the international competition.