Samantha Johnson
Region Sydney
Employer Reef Restaurant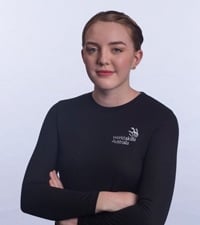 Training Institute: TAFE NSW Northern Sydney Institute, Ryde Campus
Qualification: Advanced Diploma of Hospitality
National Results: Gold Medal
Skillaroo Samantha Johnson is a dedicated professional with big dreams for the International Competition and her future.
How would you describe yourself in five terms or less?
A dedicated a hardworking individual, striving to be the best.
Would you recommend your trade to others?
Yes! If you don't want an office job where you will be sitting at a desk all day then hospitality is the go. You are working with different people and dealing with all different personalities on a daily basis. It keeps your interest and never leaves you bored.
Who is your mentor and why?
My trainer, Ivan Novak is someone I admire for his dedication and passion in the industry. I also admire Jessica Martin, who was the competitor for Restaurant Service at the 42nd WorldSkills Competition in Leipzig, Germany. Her industry knowledge and experience is something I strive for.
How did you first become involved in WorldSkills Australia?
I first become involved in WorldSkills Australia when I met Jessica Martin. We attended the same TAFE and she was training for the 42nd WorldSkills Competition in Leipzig, Germany. She encouraged me to enter a TAFE level restaurant service competition, which I came first in. After that I was offered the opportunity to enter the 2013 WorldSkills Australia Regional Competition from which I went on to win gold at the 2014 WorldSkills National Competition as well.
What do you hope to achieve both in the short and long term of your career?
I would like to work overseas within the next few years to gain more international experience. I would also finish my university degree (Bachelor of Hotel Management). In the long term, I want to continue the development of my industry knowledge and work my way up into management of hotels and restaurants. I also want to stay involved in WorldSkills Australia and be a part of other people's journeys through the different stages.
How do you feel about representing Australia in São Paulo, Brazil?
The chance to represent your country is not an opportunity that comes up every day – more like once in a lifetime. This is especially true for myself, as restaurant service competitions are few and far between. The honour to represent Australia is hard to put into words. I feel so privileged, and I am going to work my hardest.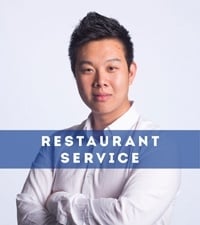 Expert
James

Sun

Having started as a competitor, International Expert in Restaurant Service, James Sun has a clear passion for the restaurant industry and giving back to the next generation of young people.

How long have you been involved with WorldSkills Australia?
8 years.

Why have you chosen to volunteer your time with WorldSkills Australia?
To help and provide support for future generations, to be proud of their industry and be more professionally skilled / prepared for industry. I enjoy mentoring and watching competitors grow with maturity over the course of being involved with WorldSkills Australia.

Describe how your involvement with WorldSkills Australia has benefited you personally and professionally.
WorldSkills Australia has helped me to grow as a person. I have a better understanding of other industries and constantly remind myself with the basic skills required for certain industry tasks. It has also been a strong source of international networking.

Would you recommend others to get involved in WorldSkills Australia competitions? What advice would you give them?
100% – take the opportunity if you are passionate about your career and own work.

What advice would you give to the 2015 Skillaroos?
The goal is to challenge and beat your own personal best. If the work produced during the international competition is the best you have ever done, then you yourself have reach your goal. If the colour of the medal received is not exactly what you wanted, use that as a motive to help other future generations to reach that desired medal. The reward and satisfaction will feel just as good.