Alexis Scott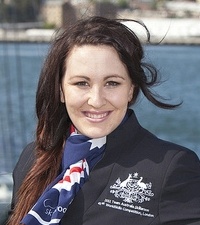 "WorldSkills Australia has helped me grow as a person, inspired me to achieve great things and helped my confidence grow within my workplace and industry by teaching me new life and trade skills."
Since Alexis was born she has been around talented hairdressers. Her two aunties, sister, cousin and grandmother are all hairdressers, "so I guess it's in my blood."
Alexis recalls spending days in the salon as a little girl playing with her sister's hair. Creating different styles and enjoying the feel of hair. "Ever since I could remember I always wanted to be a hairdresser so at the end of Year 9 I got an apprenticeship at my family's salon and I never looked back."
Alexis believes that the WorldSkills competitions have given her the best time of her life so far. Alexis describes WorldSkills as "a wonderful competition to be a part of as it gives you the chance to benchmark your skills, travel, learn trade skills that you will cherish forever and meet friends for life."
Alexis says she loves making people happy, "when you see your client walk out the door with a smile from ear to ear because they love how they look, it is truly a wonderful feeling."  Alexis also loves taking part in hair shows and competitions, "it is a challenging and inspiring side of hairdressing."
In the short term Alexis aims to perform to the best of her ability at the WorldSkills International Competition in London where she hopes to win the Gold Medal. In the long term Alexis would like to travel the world and grasp any opportunity that comes her way. She looks forward to one day becoming an educator and sharing her experiences with others whilst also following through with her ambitions of owning her own hair salon.
Favourite Motto:
To achieve great things you must dream as well as act.
In one word describe how you feel about representing Australia in London?
Ecstatic.
Expert
Donna

DeMaria

Donna is a hairdresser and teacher at the North Coast Institute of TAFE, Port Macquarie Campus. Donna coordinated her first Regional Competitions for the North Coast in 1991 to encourage a stronger representation for the Hairdressing industry. She has since Judged and Designed Projects for the 2006, 2008, 2010 WorldSkills Australia National Competitions and trained and mentored International competitors. In 2011 she was the Deputy Expert in the Hairdressing category. Donna has worked tirelessly to ensure the world%27s best trainers, both in Australia and overseas will positively help Alex to achieve her best.