Richard May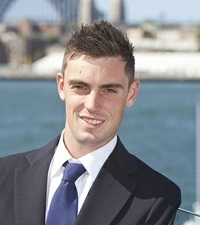 "Being involved in WorldSkills Australia has given me the confidence boost that was needed to excel in my trade.  I am now more self-assured in my abilities and as a result I have been offered numerous job opportunities." 
Richard took a keen interest in landscape gardening through family friends that were involved in the industry. As Richard learnt more about landscaping, what exactly it involved and the chance to work outdoors, he knew that this was the trade for him.
Richard would recommend a trade to others as he believes it is a great opportunity for people of any age to develop new skills. In his trade Richard enjoys the variety of work that is done outdoors.
In the short term, Richard is aiming for a Gold Medal at the WorldSkills International Competition London UK, 2011, and in the long term he hopes to establish his own successful business in landscaping in the near future.
Richard is looking forward to the challenge on the International Competition and the experience of travelling to another country to represent Australia.
Favourite motto? 
Imagination is more important than knowledge.
In one word describe how you feel about representing Australia in London?
Privileged.
Expert
Ben

Meade

Ben competed at a WorldSkills Australia Regional and National level in 2002 then International in St Gallen Switzerland in 2003. Following Competition in St Gallen, Ben was keen to give back to WorldSkills Australia and has since been involved in all National Competitions as Judge/Chief Judge as well as designing both Regional and National Competitions to date. Ben has been self employed, running his own business in Melbourne- 'Outdoor Concepts' for 7 years. Ben believes that the International Competition is not just an opportunity to prove ones skill to others, but will also make for a better and stronger person from experiences pre/during/post competition. Ben says the WorldSkills Competitions are a "wonderful opportunity for these young people to get well ahead and be future leaders of their industry."