Russell Routledge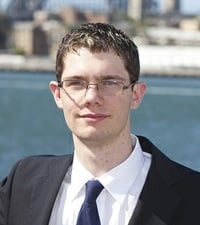 "WorldSkills Australia has encouraged me toward a higher level of achievement that I never thought was possible.  It has been an interesting and worthwhile experience and I am eagerly looking forward to going head-to-head with the world's best."
Russell was introduced to the sheet metal trade at a young age by a highly skilled professional. Russell was interested in what he was seeing and learning in the sheet metal trade, and was keen to start training through an apprenticeship.
Now,Russell enjoys the large variety and scope of work in his job, no two days are the same. He takes on all the challenges the job brings and relishes a good job done.
In the short term Russell would like to continue to develop his skills. In the long term he has big plans as he hopes to continue developing and expanding his business, Rusty's Metal Worx.
At the WorldSkills International Competition in London, Russell is most looking forward to the challenge that awaits him.
Favourite motto?
Attitude is a little thing that makes a big difference.
In one word describe how you feel about representing Australia in London?
Jubilant.
Expert
Brian

Coleman

Brian began with WorldSkills Australia in 1994 and competed for Australia at the WorldSkills International Competition Lyon France winning 4th and receiving a Diploma in Sheetmetal. Brian also received scholarships from BBM and Queensland Overseas Foundation to gain work experience overseas. After working at Stoddart for 17 years Brian established his own business ALL FAB QLD and still finds time to be involved with the Sheet Metal category of WorldSkills Australia. Brian encourages Russell and all Skillaroos to "feel the excitement and fulfilment of competing for your country."