Kate Crocker
International Result Silver Medal
Region Sydney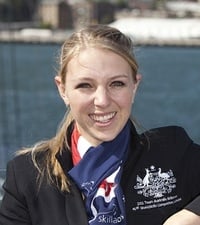 "WorldSkills Australia has helped me professionally as I would not have the skill level and confidence that I now have in restaurant service.  This in turn has led to my employment with Sydney's 3 Hat Restaurant – Quay. 
I have grown so much in this journey as a person, and I am constantly striving to develop professionally and as an individual."
Kate became involved in the hospitality industry through a VET course she completed during Year 11 and 12 at Ryde College.  Kate recommends a trade to others "if you're practical, hands on individual that loves dealing with people."
Kate believes the WorldSkills competitions have provided her with many opportunities that she may not have received otherwise, "you meet so many people along the way which develop into great friendships that last for years."
Kate enjoys the customer service aspect of her job, "I get to give a great dining experience to people and hopefully make it one to remember."
In the short term Kate hopes to gain as much knowledge and experience as possible and further along she hopes to possibly open her own fine dining restaurant with gueridon elements throughout the menu.
Favourite motto?
Forget about all the reasons why something may not work. You only need to find one good reason why it will.
In one word describe how you feel about representing Australia in London?
Privileged.
Expert
Brigitte

Collins

Brigitte is Acting Head Teacher, Food, Beverage and Events at TAFE NSW Northern Sydney Institute, Ryde College. After being impressed by the standards and passion displayed at a WorldSkills Competition, Brigitte decided to get involved in 1997. She was Expert for Australia in 2003 and 2005, and Chief Expert in 2007, 2009 and London 2011, and says all the competitors are now part of her extended family. Brigitte wants to show that Australia is best in the world in service standards by continuing to achieve results Internationally as Australia did in 2009 by winning a Gold Medal in Restaurant Service against 27 other countries with competitor James (Heh -Nian) Sun and the training team. She says that it is also good to meet up with experts and trainers from around the world to be able to compare standards.