Kye Szeniak
International Result Silver Medal
Region Sydney West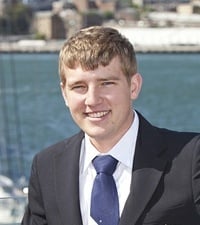 %22WorldSkills has encouraged me to travel; it has also given me my first trip on a plane. In a professional sense, it has helped me to become more particular in what I do, and has opened my eyes to what I want from a job and workplace and has led me to where I am now.
With his father being a spray painter, Kye %22grew up around hotted up cars,%22 and from a very young age displayed a keen eye for detail and genuine passion for painting. Kye was %22encouraged to* follow up on his natural knack%22 in car painting and that is exactly what he did.
Kye is excited about competing in the 41st International WorldSkills competition in London and encourages other enthusiastic trade professionals to get involved in WorldSkills, so that they too can take advantage of the %22once-in- a-lifetime experience.%22
At work, Kye enjoys the fact that he is able to be creative with what he does and explains that nothing beats the look on people%27s faces when they get their cars back after he has worked so hard to restore them, he recalls %22 the sense of personal achievement%22 he gets when he knows he has done a good job.
In the shorter term Kye is focused on doing the best he can in London and bringing back with him some of the skills he learns during the competition. Kye hopes to stay at his current place of employment for as long as he can, whilst he is still learning and hasn%27t really thought about what he would do after that but has been, %22throwing around the idea of possibly becoming a TAFE teacher one day%22.
Favourite motto?
You learn something new every day
In one word describe how you feel about representing Australia in London?
Thrilled
Expert
Brian

Johnson

Brian Johnson has been with the WorldSkills community for 20 years as Regional and National Judge, Convenor and International Expert for 5 competitions. He is a vehicle painting teacher at the Hunter Institute of Technology. One of Brian%27s aims is to help Justin achieve the most he can during and well after the competition. He believes not everyone is challenged within their workplace and all young people, their employers and industry would benefit from competitions where skills excellence is encouraged. Brian also trained Stuart Aisbett, silver medalist in WorldSkills International Competition Japan, 2007.