Craig Agnew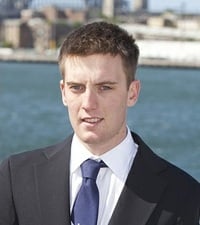 "WorldSkills Australia has helped me to grow both as a tradesman and as an individual.  As a result my quality of work continues to improve as I am now continually striving for excellence."
Craig undertook work experience at three different panel beaters and decided based on his experiences and learning that this is what he wanted to do.
Craig recommends participating in WorldSkills competitions as he believes the competitions are a great adventure, "you have a great time while you compete, get to meet new people and get to personally know the people in your team."
In his job Craig most enjoys the variety of the job, learning about the different car designs available and the problem solving aspect of autobody repair.
In both the short and long terms of his career, Craig plans to become the best and achieve as much as possible.
Craig is looking forward to competing at the WorldSkills International Competition in London. He is excited about the opportunity to compete against the best in the world and has high aspirations of taking out the top title.
Favourite motto:
One Life, One Chance.
In one word describe how you feel about representing Australia in London?
Honoured.
Expert
Tom

Vukelic

Tom is a former Head Teacher of Vehicle Trades at South Western Sydney Institute of TAFE. Tom has been involved with WorldSkills Australia since the late 1980's and has designed Autobody Repair projects for WorldSkills Regional and National Competitions for the past ten years and at the WorldSkills International Competitions in Helsinki in 2005 and Shizuoka in 2007. Tom believes that a vocational qualification provides a sound foundation for employment and a "spring board" for future career opportunities. His advice to Craig and other Skillaroos is to "have sound preparation, leave nothing to chance and the more effort you put into your training the luckier you'll get."