Alan Ramsden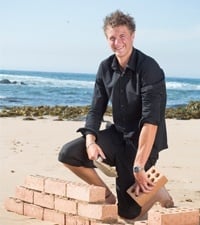 Training Institute: Polytechnic West – Balga Campus
Regional Results: Gold
National Results: Silver
Qualification: Certificate III in Bricklaying
"WorldSkills has helped me take my skills to the next level. I am now a lot more conscious of everything I do and I now aim to achieve perfection in my work. Through my WorldSkills journey I have met some incredible likeminded people, I have been given the opportunity to travel and best of all I have been able to achieve things in my career that I never even knew were possible."
Alan had always liked the idea of becoming a Bricklayer, being able to work outdoors and learning how to build something from scratch were two of the key attractions for him. During high school Alan decided to try his hand at bricklaying and enrolled himself in a pre-apprenticeship course. As he had suspected Alan thoroughly enjoyed the work and followed up on his preliminary course with a full time apprenticeship.
There are many reasons why Alan believes this industry is so well suited to him, "to me what I most enjoy about the trade is that I am not stuck behind a desk, the work is relatively stress free, I get to work outside, am given a lot of freedom and I am able to enjoy the fruits of my hard work by standing back and appreciating the finished product. The fact that I earn a great living through doing what I love is also a great bonus," said Alan.
Alan thanks his host trainer Mark, and his TAFE lecturer Eddie for providing him with the guidance which has set him on a path to success in his industry, "Eddie and Mark have been so incredibly supportive of me both professionally and personally. Not only did they teach me everything I know about Bricklaying but they have shaped me into the person I am today. I hope that one day, I will be looked up to as a mentor the way I look up to them now," said Alan.
In the future Alan hopes to complete his building diploma and use the skills gained to build his own house.
Expert
Troy

Everett

Troy is the head teacher in bricklaying for TAFE NSW and is also the international Chief Expert for Australia at the 42nd WorldSkills
International Competition. Troy thoroughly enjoys bricklaying and teaching bricklaying and is glad to be in a position where he
can influence industry and promote opportunities for young people both through his role with WSA and TAFE NSW. Troy has
attended six International Competitions, starting with Seoul, South Korea where he went to support a student who was competing.
Troy has been the Australian expert for Bricklaying since Helsinki in 2005; this year will be Troy's first time as the Chief Expert at
the International Competition in Leipzig. Troy enjoys building a good rapport with the competitors and showing them methods
and techniques that are out of the ordinary, sparking their imagination and encouraging innovative thinking. Troy's advice to the Skillaroos is, "embrace the opportunity and work hard so you make the most of it. Don't forget to enjoy the ride."