Alden Meale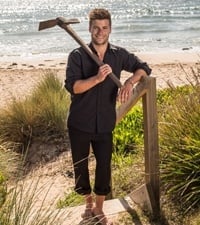 Training Institute: NMIT – Fairfield Campus
Employer: Landart Landscapes
Regional Results: Gold
National Results: Gold
Qualification: Certificate III in Horticulture (Landscape)
"I decided to compete in a WorldSkills Competition because of the stories I had heard from past competitors, teachers and my boss. Everyone who has been involved in this organisation will tell you how rewarding it is. The fact that I was given the opportunity to travel to the other side of the world to compete against the best in my chosen profession, is something I never thought could have happened to me."
It was during work experience placement in year 10 when Alden first discovered his passion for landscape gardening. It opened Alden's eyes to the benefits and opportunities available in the industry. That same year he decided to spend a week of his school holidays volunteering with the same company to find out for sure if this was definitely the career pathway he wanted to pursue.
Once Alden completed high school, he enrolled in a Certificate III in Horticulture (Landscape) at NMIT in Fairfield and began actively seeking an apprenticeship in the landscape gardening profession.
Alden has completed his qualifications and is now enjoying his employment at Melbourne based company, Landart Landscapes, where he is given the support and opportunity to continuously develop his skills in the industry.
Alden lists his employer, Simon Buchanan (Owner/Director of Landart Landscapes), as his mentor and someone he looks up to in the industry, "Simon went through WorldSkills just as I did. He runs his own successful business and has done so for the past five years and is still only young. That's how I see myself in the future."
"In the near future, I hope to open my own business. At the moment, I would like to spend the next few years picking up on the business side of operations. In the longer term, I hope that my business will be successful and for me to be happy with the work that I produce," says Alden.
Describe your experience representing Australia in Germany…
"My experience in the whole WorldSkills program was incredible and one I am most grateful for. The things it allowed me to do, and the places it took me were things I thought I would never achieve in my life. It made me grow, not only as a person but as a worker too. I have made lifelong friends, and our adventures that happened overseas while competing for our country will never be forgotten. It was the most challenging experience of my life, but I would do it again in a heartbeat if I could. It was amazing and something I will always be thankful for."
Expert
Ben

Meade

Ben has been self-employed in the landscape construction industry for the past nine years, trading as Outdoor Conceptions, a
Melbourne based company. He represented Australia as a competitor in the WorldSkills International Competition in St. Gallen, Switzerland in 2003 and has been involved ever since. Being an International Expert not only gives Ben a great sense of pride, but also a drive to help train Australians best young landscapers to be the best that they can be. He thoroughly enjoys watching his competitors and their incredible journey of personal and professional development in the lead up to an International Competition. Ben's advice to Alden, Ryan and the Skillaroos competing in Leipzig in a few months is, "you can never be over prepared, work the hardest you have ever worked in your life, but also enjoy the experience you are given. This is a once in a lifetime opportunity."