Shaun Francis
Region North QLD
Employer Mark Graham Electrical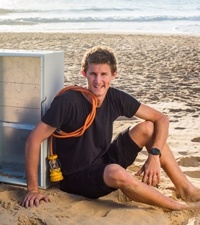 Training Institute: Tec-NQ
Regional Results: Silver
National Results: Bronze
Qualification: Certificate III in Electrotechnology
"WorldSkills is a great initiative; it encourages students, apprentices and trainees to strive to be better. The competition process allows those who are eager to succeed in their industries with the opportunity to expand their knowledge in their field, it challenges people to push their limits and it is also a great platform for networking with likeminded people."
Shaun Francis first got a taste of the electrical industry in year 10, when he completed work placement. He enjoyed the work so much that throughout year 11 and 12, he spent one day a week working at an electrical company where he gained valuable experience. When he completed year 12 he was offered an apprenticeship with the same company.
Shaun is constantly recommending his industry to others as a viable career pathway, "I love being an electrician, it is extremely hands on and at times is quite difficult but I enjoy the challenge. It is an industry that is constantly changing and evolving through technology and it's exciting to learn the new things and understand them. In addition to that, it is a trade that can take you anywhere, there are so many different pathways available within the industry," says Shaun.
Shaun has been fortunate enough to have some powerful influences and role models to look up to as mentors in his industry, he credits his teacher Warren at TEC-NQ as a genius in the field of electrical control and he thanks him for sharing his passion for teaching and training others to be the best they can be. He is also very grateful to his boss who was the one who entered him in the WorldSkills Regional Competition, "Mark is an incredibly supportive boss, who is extremely trusting and eager for me to continue to develop, I am exceptionally lucky for that."
In the future Shaun hopes to establish his own electrical company, "I hope to be able to pass on my skills and knowledge which I have received from my incredible teachers to other young people coming through the trade," he says.
Describe your experience representing Australia in Germany…
"The WorldSkills experience was so much more amazing than I ever could have imagined. It%27s a great reward for the dedication and training I put in. The other competitors from both here and overseas were all awesome people. It was definitely the hardest 4 days of work I have done and it stretched me to the limit. If anyone knows someone who is good at their trade or skill they should definitely get involved in the WorldSkills journey. It will not disappoint."
Expert
Warren

Carlyon

Warren is employed as electrical facilitator at TEC-NQ in Townsville. Warren has been involved with WorldSkills as Convenor and Judge for the Central Queensland Region from 1997 to 2010 and in Townsville (North Qld) in 2012. Warren was Team Leader for Central Queensland National Team from 1998 to 2002, judged in 2004 and became Chief Judge at the 2006 to 2012 National Competitions in Electrical Control. This year Warren will see his competitor, Shaun compete in the 42nd WorldSkills International Competition, in Leipzig, in the 'Industrial Control' category. Warren's advice to Shaun and the Skillaroos is, "make the most of this opportunity, train hard and compete hard."