Jessamy Mooney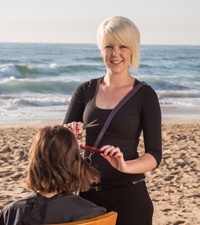 Training Institute: South West Institute of Technology
Regional Results: Bronze
National Results: Bronze
Qualification: Certificate III in Hairdressing
"WorldSkills has opened up so many doors for me in my career and has assisted me in paving the pathway to my future success. The best thing about the competitions is that they push you to strive higher and make you realise your true potential. The benefits gained through this experience are incredible, I have become much more confident both personally and professionally, I have made many friends and I have also attracted more clientele to the salon which has made me exceptionally proud of myself."
Jessamy stumbled across the hairdressing industry during high school when she undertook work experience at Salon De Coiffure. After thoroughly enjoying the work and getting along exceptionally well with the staff at the salon, Jessamy knew that it was the right workplace for her. She expressed her interest to owners, Donna and Denise Scott, and they agreed that she was a perfect fit for the salon and consequently offered her an apprenticeship.
For Jessamy, the most enjoyable aspect in her line of work is "making clients feel good about themselves, giving them a relaxing experience and of course the gratification I get by seeing the end result of my creative and technical work." Although not having worked in the industry for long, Jessamy is confident in her career choice and is a very strong ambassador for the hairdressing industry, "hairdressing is great because it provides people with skills which can be used in any part of the world. I like that it allows me to think both creatively and technically and I love the social aspect of the job, interacting and sharing stories with clients."
She credits much of her success to two very inspirational women, "Donna De Maria, my trainer and international expert and Alexis Scott, my colleague who competed in London. They have both been incredibly supportive and insightful. They are really talented hairdressers; I have learnt an incredible amount from both of them. They continue to push me to be the best I can be and I am so incredibly grateful for their guidance," says Jessamy.
Jessamy was the youngest member of the Team Australia Skillaroos to compete at the 42nd WorldSkills International Competition in Leipzig, Germany.
In the future, Jessamy hopes to open her own salon, participate in runway shows and is also interested in working with celebrities.
Describe your experience representing Australia in Germany…
"Being a Skillaroo was a once in a life time opportunity and was the best experience of my life. It was such a privilege to represent Australia in Hairdressing. The International Competition was the most challenging four days of my life, but was also the best. You make so many lifelong friends on this experience, and memories that will last forever."
Expert
Donna

DeMaria

Donna is a hairdresser and teacher at the North Coast Institute of TAFE, Port Macquarie Campus. She began her WorldSkills
journey when she coordinated her first Regional Competition for the North Coast region in 1991, to help encourage a stronger
representation for the hairdressing industry. Since then, Donna has judged and designed projects for the 2006, 2008, 2010 and
2012 WorldSkills Australia National Competitions. Donna has also acted in the role of International Expert and Deputy Expert at a
number of International Competitions. One of Donna's proudest achievements was training Australia's first ever international medal
winning hairdresser, Alexis Scott, who brought home a bronze medal in 2011. 2013 will mark Donna's first year as Chief Expert in
the Hairdressing category, her advice to Jessamy and the Skillaroos is to, "train hard, stay focused and enjoy this once in a lifetime experience."