Luke Wray
Region Canberra
Employer Swift Tiling Pty Ltd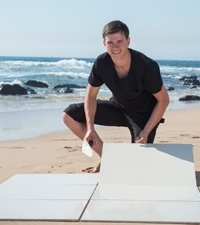 Training Institute: Canberra Institute of Technology
Regional Results: Gold
National Results: Gold
Qualification: Certificate III in Wall and Floor Tiling
"WorldSkills Australia provides many opportunities to pursue a career that suits your capabilities and interests. The process of learning through competition may be long but I believe it helps with character building.%22
Luke Wray's passion and dedication for tiling is obvious and he attributes much of his success to his mentors and trainers, most of whom he works with. When he completed year 10, Luke realised that higher education wasn't the right choice for him, and with that decision in mind, he set out to land himself an apprenticeship.
His initial choice was to take the path of building and construction, however circumstances led him down a different path and he secured a tiling apprenticeship with his current employer, Swift Tiling.
Luke's decision to take on a career in tiling is one he has never looked back on, "it is satisfying to know that I am learning a unique skill. Every day I am doing something different, be it, designing, using different skills, meeting new clients… it always makes for a very diverse and interesting day and it keeps me motivated," says Luke.
He lists his mentors as being his employer, Glenn Swift, his TAFE teacher, Martin Stallard and his supervisor, Steve Martin. He is motivated by their passion and knowledge for their field and aspires to show equalled dedication to the industry that has given him so much.
Expert
Ron

Simeon

Ron is employed by Polytechnic West as a lecturer in wall and floor tiling and also works as a contractor in the industry. Ron's
WorldSkills involvement started in 1989 as a Regional Judge. In 1994, Ron began training Western Australia competitors and
has done so ever since. In addition to training, Ron has also acted in roles such as Regional Coordinator, National Judge and
International Expert. Ron first began mentoring international competitors in 2009, the same year his competitor, Peter Stienwiess, returned home with a bronze medal. Ron's suggestion to his 2013 Skillaroo, Luke Wray, is to, "put the effort into training and planning well in advance of the competition. When the competition starts it's too late. Follow your daily plan, stay relaxed and focused. These four days of your life can never be repeated. Enjoy the experience as you are Australia's best."