Timothy Taylor
International Result Gold Medal
Region Ballarat-Wimmera
Employer Ararat Automotive and Agricultural Services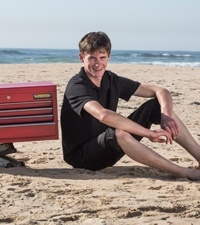 Training Institute: University of Ballarat, TAFE
Regional Results: Silver (2009), Gold (2011)
National Results: Silver (2010), Gold (2012)
Qualification: Cert III in Automotive Mechanical Technology
"Participating in WorldSkills competitions is definitely a positive experience. It really opens up your eyes to the potential pathways available within your trade. It showcases to potential employers that you are an active and enthusiastic tradesperson."
Timothy (Tim) Taylor grew up around cars and motorbikes. His father, a mechanic by trade, encouraged his interest from an early age. During his year 9 studies, Tim found a part-time job working at a garage after school. Once he completed year 10, the garage offered him an apprenticeship, which he gladly accepted.
When he's not working on cars, Tim is at university, studying mechanical engineering part-time. He loves all things mechanical and his passion for continual learning has only aided his development and training, "what I enjoy most about my job is the fault finding and problem solving aspect…solving a problem with a vehicle means learning how the system works and how it influences the performance of a vehicle, it's always a bit of fun," said Tim.
Competing in Leipzig was a longstanding goal for Tim, "I have wanted to compete internationally ever since I placed second in my first WSA National Competition in 2010. It is something that I am really passionate about."
Due to Tim's age, he was able to progress through two WorldSkills Australia competition cycles. His silver medal in 2010 only increased his determination to succeed in Sydney.
Expert
Grant

Petch

Grant works for the University of Ballarat and has been involved with WorldSkills Australia since 1993. He has a breadth of WorldSkills experience, through his position in the role of Team Leader in 2000 and 2002 to his Judge and Chief Judge roles at WSA National Competitions since 2004. In 2009 Grant was offered the role of Deputy Chief Judge at the WorldSkills International Competition in Calgary, Canada. His outstanding knowledge and fairness saw him promoted to the Chief Expert for the International Competition in London, a role he will again fulfil in Leipzig, Germany. Grant's first class training has seen his competitors walk away from the International Competition with incredible results, including a gold medal in 2007. Timothy Taylor will be the fourth competitor Grant has trained for an International Competition.