Benjamin Hackett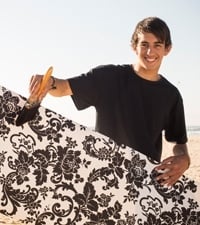 Training Institute: TAFE NSW – Granville Campus
Regional Results: Gold
National Results:  Bronze
Qualification: Certificate III in Painting and Decorating
"The WorldSkills competitions have made me much more confident in my skills and in my personal life. Not only has it opened up more work opportunities for me, I also made some lifelong friends."
Benjamin was first exposed to the painting and decorating business through his father who is a painter and a business owner: "I grew up watching dad and his painting business grow and ever since I was young we always joked about me becoming a painter and us calling the business Peter H the Painter and Son, so it had always been in the back of my mind that I would one day follow in my father's footsteps," says Benjamin.
Over the years Benjamin watched his fathers' admirable work ethic earn him a respected reputation in the painting and decorating industry and as a result a very successful business. Ben's father showed him what could be achieved through hard work and a passion for what you do and as a result Ben made the conscious decision to leave school and pursue a career in the industry.
"Once I was mature enough to appreciate everything that my father had done to establish his business, pursuing a career in painting seemed like a natural progression for me," says Benjamin.
Benjamin loves what he does for a job, in particular the great sense of achievement he feels after he has finished painting a house and is able to stand back and appreciate all of the hard work which has gone into transforming the building.
"Painting and decorating is a great industry to be involved in. I find it rewarding not only financially but also creatively. The skills I have learnt through my apprenticeship can be applied in other fields and it is a trade which you can take with you all over the world," says Benjamin.
Benjamin is striving to start his own business, "I envisage that by the time I'm 23 I will be running my own painting business with two apprentices working for me," says Benjamin.
In the future he hopes to become a TAFE teacher. I want to encourage other students to work hard, pursue their passion and of course, to challenge themselves in WorldSkills competitions."
Expert
Ian

Vickery

Ian is a teacher at TAFE NSW Hunter Institute, Newcastle Campus and was first involved with WorldSkills Australia as a competitor
in 1989. Ian has since been a Judge, Convenor and Designer for previous competitions and has helped train the 2003, 2007, 2009
and 2011 International Competitors in Switzerland, Japan, Canada and the United Kingdom. Ian will train Ben to achieve gold medal
standards. His advice to Ben and the Skillaroos is to, "train and compete as an elite athlete would."