David Cummings
Region Macquarie
Employer AJS Electrical / Skillset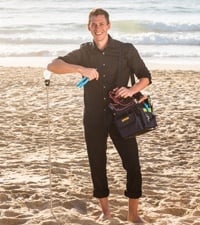 Training Institute: TAFE NSW -Western Institute, Dubbo College
Regional Results: Gold
National Results: Gold
Qualification: Certificate III Electrotechnology – Electrician
"The WorldSkills competition process provides all competitors with a great experience and pushes them to learn the skills needed to produce a higher standard of work. It also allows people to benchmark their skills to an international standard."
David's pursuit for a career as an electrician began in high school when he enrolled himself into a pre-apprenticeship course. David completed the course over the two years and after high school was offered an apprenticeship with AJS Electrical, an opportunity he jumped at.
In his work, David enjoys working with his hands and the variety of work which comes with the trade, "no two days are ever the same," he says.
David was first made aware of WorldSkills competitions through his TAFE teacher who encouraged him to put his skills to the test. After speaking with some of his colleagues, who had their own WorldSkills success stories to share, David decided that it would be a valuable step in his career to compete in his Regional Competition. David experienced gold medal success at the regional level and progressed to the Nationals where he again walked away with the gold medal.
In the future David hopes to further his studies in the industry and travel the world.
Expert
David

Arnold

David Arnold has been involved with WorldSkills Australia since 1984 and has been training and mentoring students for over 33
years with his work at TAFE Western. David has influenced the lives and career paths of many students in helping them to achieve world class standard skills. One of David's most recent triumphs being Ben Houghton; a student of his from Dubbo who won a gold medal in Electrical Installations at the 2011 International Competition in London. David believes the Skillaroos will be satisfied with their results provided they work hard and aim to perform at their maximum potential.