Ryan Dahlblom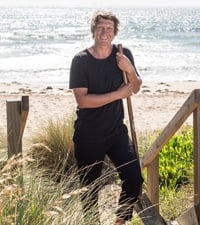 Training Institute: NMIT – Fairfield Campus
Regional Results: Bronze
National Results: Silver
Qualification: Certificate III in Landscaping/Horticulture
"Through participating in WorldSkills competitions, I learnt more about the field of landscape construction and gained invaluable experience. Competing has improved not only my personal confidence but also my confidence in the work I produce. I find myself rarely second-guessing my work these days and I seem to be able to produce work at a more efficient rate."
Playing a team sport can have many advantages, however for Ryan Dahlblom he would never have imagined that landing his dream job would be one of them. Whilst playing football for his local club, Ryan was asked to do some labour work for his teammate and landscape gardening business owner, Garrett Heenan. Ryan enjoyed the work immensely and Garret was impressed with Ryan's skills, within the space of days Garret signed Ryan on as an apprentice.
When asked what he enjoys most about his job, Ryan said, "first and foremost, my boss. I couldn't ask for a better mentor." He also enjoys the physical aspect of landscape construction. The challenge of his work is not only physical but also mental, Ryan appreciates that his work requires thought and often creativeness, and this keeps him motivated and interested in the trade.
Ryan is fortunate to have more than one mentor providing guidance and support. Chris Howlett, a teacher at NMIT, assisted Ryan throughout his apprenticeship and was instrumental in Ryan's training and development, "he is a very passionate, intelligent and hands-on teacher and trainer, it made me want to learn and be the best I can be," says Ryan.
Ryan competed in the Landscape Gardening category with fellow Victorian Australian representative, Alden Meale. Landscape Gardening was one of two team categories that Australia competed in at the 42nd WorldSkills International Competition in Leipzig, Germany. Ryan thanks WSA competitions for the improvement it has had on his ability to work more efficiently under time constraints. He can't wait to gain more life experiences, such as travelling overseas and seeing a new part of the world.
Expert
Ben

Meade

Ben has been self-employed in the landscape construction industry for the past nine years, trading as Outdoor Conceptions, a
Melbourne based company. He represented Australia as a competitor in the WorldSkills International Competition in St. Gallen, Switzerland in 2003 and has been involved ever since. Being an International Expert not only gives Ben a great sense of pride, but also a drive to help train Australians best young landscapers to be the best that they can be. He thoroughly enjoys watching his competitors and their incredible journey of personal and professional development in the lead up to an International Competition. Ben's advice to Alden, Ryan and the Skillaroos competing in Leipzig in a few months is, "you can never be over prepared, work the hardest you have ever worked in your life, but also enjoy the experience you are given. This is a once in a lifetime opportunity."