Hannah Colquhoun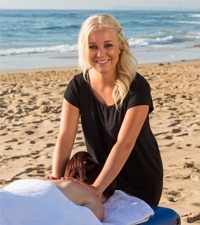 Training Institute: Cairns Beauty Academy
National Results: Gold
Qualification: Certificate III in Beauty Therapy
"My experience with WorldSkills has not only improved my personal confidence but it has also significantly assisted me in my career development. Doors have opened to new and exciting job opportunities which I never would have dreamt of. This has been a once in a lifetime opportunity and I can't wait to see where it will take me next."
Hannah Colquhoun got her first look into the beauty industry through her work placement at the Cairns Beauty Academy. It was this very experience that helped her to decide at the tender age of 16, that this was exactly what she wanted to do with her life. "By the end of the first day I knew that being a beauty therapist was what I wanted to do, I enjoyed everything to do with the procedures and products at the salon and as soon as I finished high school I enrolled to study Beauty Therapy at the school I completed my work experience at," says Hannah.
For Hannah the most enjoyable thing about her job is how her treatments make her clients feel, "making people feel great about their skin, helping them to improve their health and overall well-being is an incredible feeling," says Hannah.
Throughout her career, Hannah has been exceptionally lucky to have a number of mentors who she has been able to look up to for advice and support, "I feel so grateful that I have been able to meet and work with some exceptional role models who have pushed me to strive higher to be the best I can be. Two of the most influential women I know are Jessie-Lee Gladwell and Sue Collins. Jessie –Lee is an ex WorldSkills competitor and also an international medallist and Sue was my Beauty Therapy trainer and international expert. The passion and dedication they apply to assist aspiring beauty therapists is incredibly inspiring. They have both played a huge role in kick-starting my career by helping me to improve my skills, encouraged me to pursue WorldSkills and they've always push me to challenge myself. I can safely say that much of the success I have experienced to date is due to both of these amazing women," says Hannah.
Hannah's future goals are to travel overseas to train on new treatments and products and to develop new skills which she can bring back to the Australian industry.
Expert
Susan

Collins

Susan is the self owner, director and principal at her Cairns Beauty Academy Salon and School. Since WorldSkills Australia
introduced a beauty category in 1999, Susan has been a Judge at Regional and National Competitions; she has also been a Deputy
Chief for three International Competitions. Throughout the 12 years Susan has been a part of the WSA International Competitions,
she has achieved with her competitors a gold and bronze medal. This year will see Susan take her competitor, Hannah Colquhoun,
to the 42nd WorldSkills International Competition in Leipzig, making it her 6th International Competition to date. Susan's advice to Hannah and the Skillaroos is "work to the point of 'I can do no more' so you are able to cherish every moment no matter what the
result… Strive for perfection."