Andrew McCormick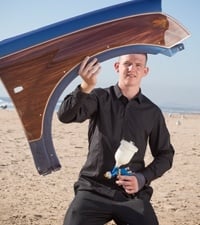 Training Institute: TAFE NSW – Western Sydney Institute- Mt Druitt Campus
Regional Results: Silver
National Results: Gold
Qualification: Certificate III Automotive Vehicle Painting
"I don't think many people realise the benefits which can come from competing in WorldSkills competitions. It provided me with a once in a lifetime opportunity and it pushed me to my limits and has really made me step up and challenge myself. The feeling I was overcome with when I completed my project at the National Competition was unlike any other I have ever experienced. I walked away from the national event with better skills, more knowledge and a thirst for achievement."
Andrew was first exposed to the vehicle painting industry through a close friend who encouraged him to take part in a night course being offered at TAFE NSW, Mt Druitt Campus. After trying his hand at a few of the techniques, he discovered that not only did he enjoy the work, but that he also had quite a knack for it. At the time, Andrew was being faced with the difficult decision of what he was going to do when he finished high school so he was ecstatic with the fact that he had stumbled across an industry which he both enjoyed and was interested in.
Shortly after he completed the night course, Andrew made the conscious decision to leave school and begin searching for an apprenticeship as a car painter. Within only a week, Andrew had landed himself a job at Parramatta Smash Repairs and remains there to this day. Andrew enjoys the versatility of vehicle painting, "I look forward to going to work because I know that each day is going to be completely different. I am constantly working on different projects and learning new skills. There is so much more to vehicle painting than people realise and it is such a rewarding industry to be involved in," he says.
In the future, Andrew hopes to become a TAFE teacher, "I want to become a mentor for other young Australians entering the trade, I want to share my experiences with them and expose students to the opportunities available through apprenticeships, including WorldSkills competitions," says Andrew.
Expert
Brad

Franklin

Brad currently runs his family business, BNT Smash Repairs located in Sydney. He first became involved with WorldSkills as a
competitor where he managed to progress to the International Competition held in Switzerland in 2005. He has stayed involved in
Regional and National Competitions ever since. The 42nd WorldSkills International Competition is the first international event where he will be fulfilling an Expert role. Brad is also a part-time TAFE teacher who enjoys training and developing the skills of his students. Brad believes Andrew has the right mindset and capabilities to excel at the international level and hope's that Andrew can take what he's learning through WorldSkills and adapt it to his work-life to benefit his career. Brad's advice to Andrew and the Skillaroos is, "no matter how long you've been in the trade or experienced you think you are you're always learning, make sure you listen to your mentors and take in as much knowledge as you can."