Mitchell Barron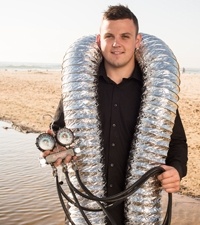 Training Institute: TAFE NSW South Western Sydney Institute – Granville College
Regional Results: Gold
National Results: Gold
Qualifications:  Certificate III in Electrotechnology (Refrigeration & Air Conditioning)

"WorldSkills Australia helped me to secure the job I wanted, it provided me with the opportunity to travel both nationally and internationally, it has made me confident in my skills and most importantly has made me more determined to succeed in my industry."
After completing his HSC, Mitchell Barron was unsure of what his next step should be. With this in mind, his step-father, an experienced refrigeration technician, organised for him to visit various work sites to explore the world of air conditioning and refrigeration. Mitchell liked what he saw and decided to take on an apprenticeship in the trade.
Mitchell enjoys the versatility that comes with being a refrigeration technician, "you learn a broad range of skills from brazing and bending copper pipe and other types of pipe to electrical and mechanical fault finding. You also work with different types of gases. I think it's a well-rounded skillset to learn, many of the skills I have learnt in the refrigeration trade can be applied across other industries," says Mitchell.
Mitchell, unlike his other Australian teammates, has already travelled to Germany thanks to his gold medal winning performance at the 2012 WorldSkills Australia National Refrigeration Competition held in Melbourne. Mitchell was given the opportunity to travel to Nuremberg, Germany for the Chillventa International Trade Fair thanks to WorldSkills Australia sponsor and supporter, LU-VE Group.
Whilst in Germany for the Trade Fair, Mitchell took a detour to Belgium to see the 2012 Euro Skills Competition, comprising of European WorldSkills Member countries/regions. These experiences only assisted with Mitchell's preparation for the WorldSkills International Competition.
Describe your experience representing Australia in Germany…
"I have never felt so good in my life after competing at the International Competition! Even though I didn%27t win a medal, this competition has absolutely brought out the best in me and has instilled in me a determination to constantly try and better myself with extra training and courses, to set goals and work towards achieving them. Competing in WorldSkills has by far been the best experience I have ever had and I will remember it for all my years."
Expert
Chris

MacDonald

Chris MacDonald is the Regional Manager for City Facilities Management, NSW. He has 18 years industry experience in all facets of the refrigeration and air conditioning trade. Chris has been involved with WorldSkills Australia since 1998 when he competed at a Regional Competition. He went on to win the gold medal in the Refrigeration category at the 1999 WorldSkills International Competition in Montreal, Canada. Since competing, Chris has been involved in judging, competition design and competitor training at various levels of competition. Chris is looking forward to the competition in Leipzig and will help Mitchell to achieve the best result possible, his advice to the Skillaroos is, "be prepared, you only get one opportunity, you don't want to walk away feeling like you didn't give it 110% effort".