Ashleigh Huntley
Region Sydney
Employer Self-employed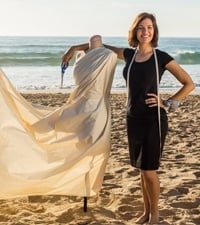 Training Institute: TAFE NSW Sydney Institute – Ultimo College
Regional Results: Gold
National Results: Gold
Qualification: Diploma of Applied Fashion Design and Technology, Advanced Diploma of Applied Fashion Design and Technology
"WorldSkills provides an amazing journey for young people; it challenges them to test their abilities under pressure and also highlights personal strengths and weaknesses. The competition environment and associated training is incredibly positive and encouraging, I believe WorldSkills assists all involved with their personal and professional development."
Ashleigh has had a passion for fashion since before she can remember, by age seven this creative young girl could often be found sewing her own creations together both by hand and on a domestic machine.
Over the years, Ashleigh continued to develop her dynamic skills whilst she was designing, creating and embellishing her own leotards for her rhythmic gymnastics competitions, where she competed in both state and national levels. After high school, Ashleigh applied for a two year Diploma of Fashion Technology at Ultimo TAFE, Sydney Institute, "through my course with TAFE, I was exposed to many different facets of the fashion industry, I obtained a broad range of knowledge and skills which in turn helped me to find a niche market in the industry in which I wanted to pursue a career. I am now passionate about producing ballroom dancewear outfits both for the national and international markets. "My love for my career as a fashion designer is based on my passion for the creation process which takes place when designing and implementing a range of garments. I gain a great sense of satisfaction when I see a finished product, on a dressmaker's mannequin or when I see somebody wearing something I have created and it is being used the way in which I had envisioned it to be," says Ashleigh.
In the future Ashleigh hopes to travel within the fashion Industry and establish an international career in the fashion dancewear industry.
Describe your experience representing Australia in Germany…
"The International Competition was a surreal experience, by the end of the competition I was so relieved, so happy, so proud of what I had accomplished and so drained that when the Aussies cheered me on to my finish, all I could do was cry and laugh. I am so grateful for the phenomenal support from my family, experts and Ultimo Sydney TAFE College and teachers. I know I have truly won from this whole journey and will take the experience with me as I venture into my future endeavours. It was a priceless experience and I am so grateful to have been able to make lifelong friends and form great professional relationships with my trainers and be exposed to the international industry."
Expert
Donna

Drain

Donna runs a successful business producing made to measure bridal, evening and day wear for clients. Her business was established shortly after winning gold at the WorldSkills National Competition 18 years ago. Donna has designed projects and judged at many WorldSkills events since and believes that continued skill development is what keeps you at the top of your field. She would like Ashleigh and the Skillaroos to remember that, "no matter what the result is, showing real commitment, perseverance and pursuing excellence bring their own rewards – and they last a lifetime."