Kurt Maier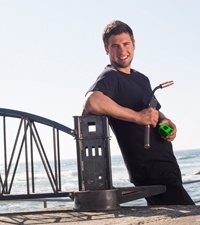 Training Institute: TAFE NSW – Riverina Institute, Leeton Campus
Regional Results: Gold
National Results: Gold
Qualification: Certificate III Engineering Fabrication (Trade)
"Being involved with WorldSkills provided me with a once in a lifetime opportunity. I have been given the chance to compete against the best in the world and am now recognised as one of the best young tradespeople in my industry, this is something I never imagined could have happened to me."
Kurt's passion for his industry began in high school when he decided to take up metal technology as a subject and thoroughly enjoyed it. Spotting his evident talent, Kurt was shortly after offered an apprenticeship at a local engineering workshop. He decided to accept the position as it would complement the Mechanical Engineering degree he was studying by correspondence.
Having graduated from his HSC with a remarkable 93.15 score, Kurt was presented with the opportunity to further his studies at a number of engineering courses being offered through various universities. However Kurt decided this wasn't the pathway which would best suit him, "I grew up on a farm and always enjoyed the hands-on side of learning and working. Personally, I would prefer to build the things engineers design, rather than design things for other people to build and that's why I decided to pursue an apprenticeship," says Kurt.
Kurt has a deep admiration for his boss who he describes as a mentor, "he is constantly willing to teach me new skills and entrusts me with the wide variety of new and interesting tasks which come through his workshop," says Kurt.
In his opinion, one of the best things about his line of work is the fact that he can apply the same principles and methods he has been taught through his TAFE course to build many different and useful things.
In the future Kurt hopes to start his own business specialising in custom fabrication, precise and quality construction of steelwork which will stand out as quality finished products.
Expert
John

Sharples

John works at TAFE NSW Illawarra Institute as the metal fabrication and welding teacher, and has been involved with WorldSkills
Australia for many years, fulfilling different roles such as organising Regional Competitions and being involved in State Training Camps. John was also a Chief Judge in the 2008 and 2010 WorldSkills Australia National Competition. He enjoys training WSA competitors and passing on his knowledge and expertise to motivated young tradespeople. John's advice to the Skillaroos is, "train hard and always try to do your very best."