Tayron Scagnetti
International Result Silver Medal
Region Perth South
Employer Scagnetti Jewelers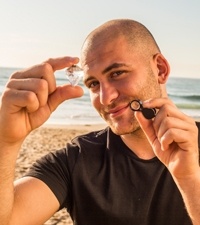 Training Institute: Central Institute of Technology
Regional Results: Bronze
National Results: Gold
Qualification: Certificate III in Jewellery Manufacturing
"WorldSkills Australia helped me to focus on achieving my goals. It provided me with an opportunity unlike any other. I learnt to be more patient and resilient which are skills that not only assist in jewellery making, but are also relevant to everyday life. My WorldSkills experience showed me that hard work and dedication can lead to opportunities I didn't even know were available in my industry."  
The art of jewellery making has been in the Scagnetti family for three generations and began in Rome, Italy, where Tayron's great uncle worked as a jeweller. Tayron's father, who spent much of his youth learning the skills of the trade through his uncle, found that he too had a passion for the industry and when he was old enough, made the decision to migrate to Australia and establish his own business as a jeweller. By the age of 14, Tayron knew that he wanted to continue the family tradition and become a qualified jeweller.
Tayron enjoys the entire jewellery making process, from designing and handcrafting to engineering each and every one of his pieces. He describes his jewellery as "art" and he takes great pride in all that he creates.
Tayron holds the trade of jewellery in high regard, "it teaches discipline and feeds creativity. It takes a certain kind of person to master the trade. In order to succeed as a jeweller it is a necessity that you have an eye for fine detail and precision, these skills do not come easily and you must work extremely hard to master them," says Tayron.
Tayron hopes to follow in his father's footsteps and open his own jewellery business. He plans to work with high-end clients, creating unique and precious pieces of jewellery.
Expert
Darren

May

Darren is a manufacturing jeweller based in the inner west of Sydney. He teaches part time at the Design Centre Enmore, a college which is part of TAFE NSW. Darren has been involved with WorldSkills since the early 90's, and has held many roles including project designing and judging at regional, national and international levels. More recently Darren designed an international project for the 2011 WorldSkills International Competition in London, UK. This year Darren will again take on the International Expert role, his advice to Tayron and the Skillaroos is, "surround yourself with the right people and put in the work. It may seem like an impossible task, but come competition day all of your past sacrifices will be a distant memory."