Brandon Gillett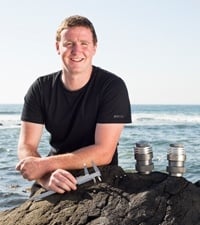 Training Institute: Central Queensland TAFE – Gladstone Campus
Regional Results: Gold
National Results: Gold
Qualification: Certificate III in Engineering/Mechanical – Fitting and Turning
"WorldSkills provides the perfect platform to challenge yourself and see how you compare to other people in your trade, from your region, from around Australia and luckily for me I got to benchmark my skills against the best in the world."
Upon his completion of high school, Brandon was simultaneously accepted to study engineering at university and offered a fitting and turning apprenticeship with Boyne Smelters. Having always enjoyed the hands-on side of learning and working, Brandon accepted the apprenticeship. "I knew that by pursuing a vocational education and training pathway, I would enter the workforce earning money, gaining valuable hands-on experience and developing interpersonal skills. To me it seemed like a logical decision, through my apprenticeship I will gain confidence and skills in my industry and when I am fully qualified I can hit the ground running," says Brandon.
What Brandon enjoys most about his job is the fact that he is always learning and constantly having to apply problem solving skills to all tasks. Particularly when he is presented with a job which has numerous solutions and he has to identify the best approach.
Brandon thanks a lot of people who have mentored him through all of his machining experience and have assisted him in his training for WorldSkills competitions, in particular Ian Wex, and the rest of the Boyne Smelters Limited machine shop crew members.
Brandon aims to gain more hands on experience and hopefully identify an area of the mechanical trade to specialise in.
In the future Brandon hopes to undertake additional study to pursue a career in mechanical engineering.
Expert
Peter

Buttenshaw

Peter works for TAFE NSW Illawarra Institute as a project officer in mechanical technology and mining. Peter first began his
WorldSkills journey when he competed at the WorldSkills Ultimo TAFE Toolmaking competition in 1999. Peter also won a gold medal at a Regional Competition. Since then Peter has remained involved with WorldSkills Australia, fulfilling roles as a Regional Designer and Judge in 2009 and 2011, National Judge and Project Designer in Brisbane 2010 and National Chief Judge and Project Designer in Sydney 2012. This year will be Peter's first time taking a competitor to the International Competition in Leipzig. Peter's advice to Brandon and the Skillaroos is "if you are well prepared there is nothing to be nervous about. Believe in yourself."