Jay Logan
Region Brisbane
Employer Howarths Sheet Metal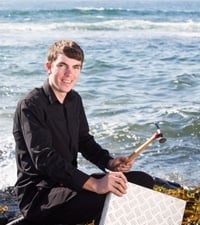 Training Institute:  SkillsTech, Eagle Farm, Brisbane
Regional Results: Silver
National Results: Gold
Qualification: Certificate III in Engineering – Fabrication Trade
"WorldSkills Australia provides a great platform for aspiring young tradespeople to gain experience in their field and to develop confidence in their skills. I am grateful that through WorldSkills Australia I was able to meet and learn from some of Australia's best in the sheet metal industry as well as the best in the world."
It was at a careers expo which was held at his high school when Jay Logan was first exposed to the sheet metal industry. A careers advisor at the time suggested that he would perhaps be suited to try his hand at a sheet metal work school-based apprenticeship.
Jay enrolled in the subject and shortly after discovered that this was the kind of industry he would like to pursue a career in. Upon the completion of year 10, Jay made the conscious decision to leave school and seek a full time apprenticeship.
"I have always been a hands-on learner and whilst completing my school-based apprenticeship I realised how much I enjoyed fabricating, welding and designing. I knew very early on that this was exactly the sort of career I could see myself in," said Jay.
Currently Jay is working at Howarths Sheet Metal, a small company which deals with a vast range of projects. Jay enjoys the versatility of the trade, "each day on the job is different therefore I am able to learn new skills depending on my assigned project," says Jay.
Jay worked to further develop his skills in the lead to the International Competition, as well as completed his apprenticeship.
In future, he hopes to use his qualification in his industry to see where his skills will take him.
Expert
Hilton

Jones

Hilton is an expert in the sheetmetal industry; he has had over 30 years industry experience as well as holding various teaching roles
including Head Teacher at TAFE for 27 years. In addition to this Hilton has been heavily involved with WorldSkills Australia since 1983 with experience in a wide range of roles including; Project Designer, Judge, site management, Head Judge, Mentor and regional, national and international trainer. Although retired now, Hilton has remained involved with WorldSkills Australia due to: "the sheer pleasure of being able to assist these wonderful young champions on their path to achieve success in their endeavours," he says. Hilton's advice to Jay and the Skillaroos is, "hard work is the key to success so train and work hard and the reward will be yours!"