Philip Matthews-Frederick
Region Brisbane
Employer Mendham Engineering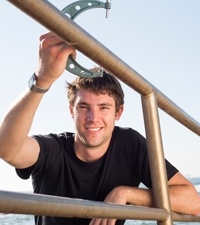 Training Institute: SkillsTech Australia, TAFE Queensland
Regional Results: Gold
National Results:  Silver
Qualification: Certificate III in Engineering – Mechanical Trade (maintenance) Fitting and Turning
"Trying my luck in the WorldSkills Regional Competition was the best decision I ever made. Not only did I make friends, picked up a lot of new skills and gained confidence in my work, but I also had a great time doing so."
Philip Matthews-Frederick has always had a fascination with machinery and how it operates. He spent his youth dismantling and reassembling anything with a machining component, it's easy to understand how Philip felt that fitting and turning was a natural career progression.
For Philip, fitting and turning is more than a profession, it's a passion, "I enjoy being presented with a mechanical problem and solving that problem with a perfectly designed and manufactured solution," says Philip.
Philip's interest and enthusiasm for his industry stems from its diversity and progressive nature, which he describes as "one that continues to evolve with ever-changing technology, but remains grounded by traditions and methods of the past."
He credits his high level of skills to his employer, Mendham Engineering. Philip's colleagues and supervisors have had a tremendous influence on his training and attitude which has positively impacted his work-ethic and technical skills. He hopes to continue working with Mendham Engineering in the short term of his career.
Describe your experience representing Australia in Germany…
"Competing in the WorldSkills International Competition was one of the best experiences of my life. It was a hard road to Germany with many hours spent training, travelling and preparing but it was all worthwhile when I stepped into the manufacturing hall at the Leipzig convention centre. I could not be more proud of my achievements and those of my team; and if we had the chance to do it all over again, very little would change. Over the course of my WorldSkills journey, I've learnt many great skills and made even greater friends. It has most definitely, changed my life."
Expert
Brent

Butler

Brent is a toolmaker at the Research School of Earth Sciences at the Australian National University. Brent won a gold medal at the
2005 WorldSkills International Competition in Helsinki as a member of the Manufacturing Team Challenge category. He has also acted in Judge and Chief Judge roles at the 2008 and 2012 WSA National Competitions. Brent's first international judging role
came in 2009 where he was given the position as Expert in Calgary, Canada. Brent was then promoted to the role of Chief Expert for the 2011 International Competition, a position he will again hold in 2013 in Leipzig, Germany. As Expert of MTC, Brent's aim is to help the three MTC competitors reach their full potential. His advice to his team is, "work hard during your preparation and training, it's amazing how quickly the competition will come around."