Jessica Martin
International Result Silver Medal
Region Sydney
Employer Momofuku Seiobo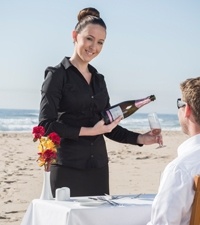 Training Institute: TAFE NSW Northern Sydney Institute – Ryde College
Regional Results: Silver
National Results: Gold
Qualification/s: Certificate IV in Hospitality Supervision, Diploma of Hospitality Management, Advanced Diploma of Hospitality Management, Diploma of Events Management
"When I look back I see so much self-development in such a short period of time. WorldSkills Australia has pushed me to reach new levels in my skills and career."
Jessica Martin has always had a dream of representing Australia on the international stage. After retiring as a professional figure skater, Jessica turned her attention to her other passion, restaurant service and hospitality.
Her interest in the hospitality industry developed through watching her father in the kitchen, a chef of over 40 years. She grew up around family owned businesses and soon discovered the diversity which came with working in hospitality, "I love that no two days are the same in a restaurant, every customer is different and they are looking for an experience that they can't get at home." Jessica strives to ensure that each and every one of her customers is given a dining experience that they will never forget.
Jessica studies at TAFE NSW's Northern Sydney Institute, Ryde College. She credits TAFE and vocational education for the opportunities it has provided and describes the hands-on experience gained through practical assessments as invaluable.
In the future, Jessica hopes to establish her own cocktail bar or restaurant. She is also interested in taking on the profession of teaching in the hope of passing on her skills and knowledge to other aspiring fine dining waiters.
Describe your experience representing Australia in Germany…
"Walking off the stage with a silver medal around my neck and flag held high above my head was a once in a life time experience and achievement, not only was it the hardest week I've ever experienced but the most rewarding. Life has definitely changed since WorldSkills, I've got to experience so much, see a world I haven't before and a lot of opportunities have been presented to me."
Expert
James

Sun

James currently works as the Manager at Arisun restaurant/Miga restaurant. In 2009, James competed in the WorldSkills
International Competition in Calgary where he won a gold medal in Restaurant Service. Since then James has enjoyed training
the WSA competitors and passing on the valuable skills and knowledge he has learnt to future generations. James advice to the
Skillaroos is, "some people dream of success, others wake up and work hard at it, as an international competitor you are already past half way so enjoy it."