Lachlan Mayled
International Result Bronze Medal
Region New England
Employer Bindaree Beef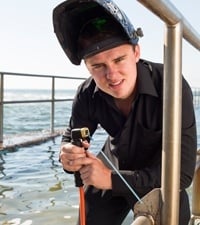 Training Institute: TAFE NSW – Armidale College
Regional Results: Gold
National Results: Gold
Qualifications: Certificate III in Engineering
"Competing in WorldSkills competitions led me to new and interesting career pathways. I learnt new skills and it also widened my employment opportunities. I got a lot of satisfaction from testing my skills in a competitive environment."
Welding is a family affair for Lachlan Mayled. He first became interested in the trade after helping his father, also an experienced welder, in the backyard shed. Whilst at school, Lachlan was given the option to select metal work as an elective, a natural choice for the budding welder. He later enrolled in an evening course at Inverell TAFE whilst completing years 9 and 10.
During year 11, he commenced a school-based apprenticeship working alongside his father in the family business.
Lachlan now works for Binderee Beef, one of Australia's largest meat processing companies, as an in-house welder. As part of his job, Lachlan enjoys a variety of work, one of which includes pressure welding. One of his favourite aspects of work is "seeing the end result when it all comes together," says Lachlan.
Through his own experiences, Lachlan openly encourages school students, who are interested in a trade or skill based career, to pursue it whilst still at high school, "that way you will be able to find out if you like it and if you do then you already have some experience, which is looked upon favourably by employers," he says.
Expert
Paul

Condron

Paul works at BlueScope Steel as a Senior Welding/Fabrication Inspector, a position which was offered to him after competing at
the WorldSkills International Competition in Osaka in 1985. In addition to working full time Paul also teaches at his local TAFE in
Wollongong. Since 1999, when Paul took on the role as the Australian Expert in the welding category at the WorldSkills Competition he has remained the Expert and Chief Expert at the biennial international event with the upcoming 2013 International Competition in Germany taking it to a total of eight. Paul's goal is to share his knowledge and experience to provide competitors the best chance
to succeed and believes the skills and experiences they obtain through WorldSkills will be with them forever.