David Corrigan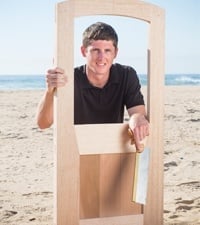 Training Institute: TAFE NSW South Western Sydney Institute – Lidcombe College
Regional Results: Gold
National Results: Gold
Qualification: Certificate III in Shopfitting and Detailed Joinery
"WorldSkills is a fantastic organisation; it celebrates skills and trades and helps people to understand how valuable and important these types of careers are for our country. The benefits of having a trade certificate behind you are immeasurable; they open up so many opportunities and pathways, WorldSkills Australia being one of them."
In year 10, David was faced with the difficult decision of choosing his HSC subjects. Having always enjoyed woodwork classes David was excited to learn that his school was offering a VET Furniture Making subject. He enrolled in the subject and hasn't looked back.
As he had predicted, VET Furniture Making ended up being his most enjoyed subject at school and fortunately for David, he was also extremely good at it. David ended up graduating at the top of the class.
Once he completed high school, David set out to find an apprenticeship which would align with the type of work he had enjoyed during his studies. He obtained a position shortly after and enrolled in a Shop fitting and Detailed Joinery course at TAFE NSW, Lidcombe Campus.
David is a strong ambassador for his industry and believes it is a worthwhile career for others to pursue, "the shopfitting and joinery trade is one of the most diverse in the building and construction industry, in our work we are required to use different materials from timber to manufactured board and veneers, aluminium, glass and manufactured stone products. I love that through my work I have been able to work with and learn about all of these different materials, it makes me a very well rounded tradesperson," says David.
What he most enjoys about his job is working with veneers and solid timber from construction through to polish as he is able to use a wide range of skills to get these projects to their completed state. David is particularly fond of being able to work with custom designed one off projects not only because he finds these jobs more challenging but also because he appreciates working with original designs.
In the future David aims to be a full time furniture maker, operating his own business.
Expert
Dion

Iori

Dion is a cabinetmaking and joinery teacher at TAFE NSW South Western Institute's Lidcombe Campus. Dion first became involved
with WorldSkills through his role as a judge at a regional level in 2005. Since then he has held roles including, Site Crew, Convenor,
National Judge, Project Designer and trainer for 2011 international competitor, Ben Cooper. Dion is passionate about WorldSkills
because he enjoys supporting students and watching them develop into great tradespeople. Although Dion's WorldSkills
experience is vast, this year will mark Dion's first time in the role as International Expert, a prospect he is extremely excited about.
Dion's advice to the Skillaroos and to David is to, "train hard and work hard but most of all to enjoy the experience."