Patrick Markovic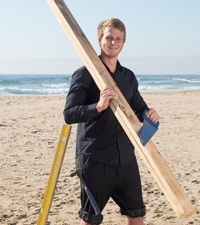 Training Institute: TAFE NSW – South Western Sydney Institute, Miller College
National Results: Gold
Qualifications: Certificate III in Carpentry

"WorldSkills competitions are the culmination of everything that I enjoy about my job as a carpenter, and it was my chance to show that a vocational education is an achievement, a valid choice of employment one that should be considered by everyone."
Patrick Markovic was swinging a hammer from the age of five. His father encouraged his involvement from an early age and taught him the basic wood work skills required to take on his trade.
Patrick enjoys working with his hands and having the knowledge to build something from the ground up. Age was not going to stop Patrick from pursuing his goals. After completing his year 10 studies, he made the conscience decision to find himself an apprenticeship in carpentry.
Gosse Bros Carpentry saw immense potential in Patrick, they signed him on for an apprenticeship and he remains with them to this day. The choice to take on the trade of carpentry is something Patrick will never regret.
His perfectionist nature and his love for outdoor work are only two reasons why he enjoys what he does, "there are so many things that I enjoy about [carpentry], from starting a new project from nothing to creating the clients dream home. Seeing a client's satisfaction when the job is completed brings me great pride. Being involved in a restoration and bringing something old and forgotten back to life is another aspect that I enjoy," says Patrick.
Patrick praises his mentors for all they have done for him. He lists his father, his co-workers, and TAFE teacher, Allen Hill, as being his biggest inspirations. Patrick's has nothing but admiration for his boss at Gosse Bros, Mark Byrnes, "he has mentored me through difficult periods and has always been generous with his praise when a job is well done, giving me the confidence to extend myself. In my opinion, his attitude and ethic towards work is unrivalled."
Expert
Allen

Hill

Allen is a carpentry and joinery teacher at TAFE NSW South Western Institute's Miller Campus. Allen first became involved with
WorldSkills through his role as a judge at a regional level in 2009. Since then he has held roles including, Convenor, National Judge,
Project Designer and Trainer for 2010 and 2012 National Competitions. Allen is passionate about WorldSkills and also his trade and loves helping apprentices develop into exceptional tradespeople. This year will mark Allen's first time in the role as International Expert, a prospect he is extremely excited about. Allen's advice to the Skillaroos and to Patrick is, "gold experiences require golden efforts, so make sure that you put in the hard work but at the same time don't forget to have fun."