John Rudge
International Result Silver Medal
Region Macquarie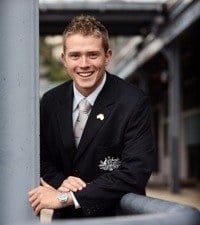 John Rudge is one of Australia%27s international silver medallists for 2007 after competing in the Electrical Installations category for 4 days. John was faced with an illness during the competition where he collapsed on site; but he overame the obstacle and proved he still had the skills to swipe a medal for his country.
John is from the Macquarie region, New South Wales and is employed at AJS Electrical in Kelso. John trained at the Western Institute of TAFE in Dubbo with his category expert David Arnold, employed by Western Institute of TAFE.
John worked with an electrician for his year 10 work placement at secondary school. His week at work experience gave him an insight into the various skills required and the challenges and opportunities offered. He then approached various workplaces with his resume and eventually received an electrical apprenticeship through Group Training (Central West Group Apprentices).
John believes that WorldSkills Australia has been an endless supporter for himself and his ambitions. He says that his skills are now up to international standards, which benefits his employer, clients and himself. John enjoys the variety in his role and the challenges and care he has to take when following strict guidelines while installing or upgrading.
John will complete a Diploma in Electrotechnology through the New South Wales Minister for Education%27s Scholarship, which was awarded to him for his success at the 2006 National Competition. A long term goal of John%27s is to travel and work with an internationally recognised company.

Where is John now?
"Since Japan I have started a new job with OMYA Australia. OMYA is a company that mines calcium carbonate which is a mineral used in the process of many different applications including toothpaste, glass, paints and many more. My role within the company is to maintain and update their PLC software for our five plants throughout Australia and New Zealand. Along with a new job I am still heavily involved with WorldSkills as I have taken on the role as Chief Expert for Trade 18 (Electrical Installations) 2009."
"My life has changed significantly due to WorldSkills Australia and competing at the International Competition in Japan 2007. I am quite sure that if it wasn't for competing at the WorldSkills competition I would not have been offered the job in which I fulfill today. It has been an amazing eye opener to compete at an International level and has given me the confidence to tackle any challenge. Through competing in Japan it has also allowed me to travel the world and experience different cultures whilst learning different ways to complete my job."
And in the next 12 months…
"The next 12 months for me will involve a lot of travel with work and WorldSkills. I am travelling to New Zealand in a little under a month to complete a two month project for my company and then to Calgary for the International WorldSkills Competition later in 2009. Whilst these will keep me relatively busy I am also looking to complete my Diploma in Electrical Engineering and a Sustainability project in Kiribati which was awarded to me through the Ern MacDonald Fellowship."
A few words for the Competitors of Team Australia, Calgary 2009
"The opportunity in which you have been given is a once in a life time experience which you should be very proud of yet humbled to be a part of. Over the next 12 months you will experience a lot of ups and downs, a lot of hard work and numerous hours of sweat and tears. In the end every single part of it will be worth it. You will make some amazing friends and experience a taste of what it is like to be up against the best in the world. Remember that you are there because you are the best in Australia and be very proud of where you come from. You will only get out of this what you are willing to put in, so from my experience put everything you have into it. It will be a life changing experience and one that you will never forget. No matter what happens when you are there never give up, fight until the end and don't walk away with any regrets. If you do then you know you didn't give it all you had. Good luck and enjoy the ride.%22