Tim Hambly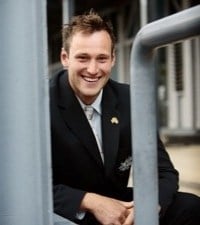 Tim is from the Illawarra region, New South Wales. He is employed at Coastal Bricklayers in the Sutherland Shire and trained at Illawarra Institute of TAFE, Wollongong, with expert Troy Everett, also employed at Illawarra TAFE.
Tim simply contacted the local bricklayer for some work and thoroughly enjoyed the hard work and sense of accomplishment that was involved. He eventually applied for an apprenticeship, unaware how far his job could really take him.
Tim has since won the Golden Trowel Award 2004, HIA Achievement Award 2005 and a gold medal at the New Zealand National SkillEx Competition 2006.
Tim believes the WorldSkills competitions have given him confidence both personally and professionally. He strongly recommends others get involved to test themselves 'in more ways than just on the score card'.
Tim trained to perform his best in Japan by travelling to Ireland and training amongst competitors and experts. His long term goal is to own a successful business.
Tim Hambly is a recipient of the prestigious Medallion of Excellence after competing in Japan at the WorldSkills International Competiiton.