Dale McMullen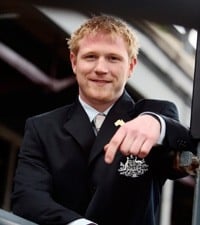 Dale is Australias international gold medallist from the 2007 WorldSkills International Competition in Japan. He also received the title Best of Nation for his marks and overall performance in the competition.
Dale is from Western Australia. He is employed by G-Mac Auto Centre, Myaree, and attended Challenger TAFE, Fremantle. His Automobile Technology expert is Grant Petch who works at the University of Ballarat.
Dale has been working with cars with his father since he was a young boy. His dad is the owner of G-Mac Auto Centre, where Dale began his apprenticeship. Dale now works alongside his father specialising in the modern diagnostic areas, while his dad works in the traditional aspects.
When Dale entered the WorldSkills Regional Competition for Western Australia he had no idea of the level of skill amongst the competitors. He believes that his success as a gold medallist in the regional and national competitions has brought himself greater confidence.
For Dale, one of the perks of his trade is being able to work on his own car and build it to his own tastes. Dale%27s aim is to continue improving his skills and gain further experience, and is considering moving into Motorsport in the future.

Where is Dale now?
"Busy" is the first word that springs to mind when Dale is asked how life has changed for him since winning Gold at the International Competition. "Literally from the time I walked off stage in Japan I was doing media interviews and this continued on for some time after landing back in Oz. I've also been doing a lot of public speaking promoting skills and sharing my journey with people which has been an awesome experience". Dale say's work has been great with clients coming in saying "They read about me in the paper or on the TV and wanted their car repaired by the best!"
"Employment opportunities have been easy to come by. Just recently I joined the pit crew of a top doorslammer drag car team and look forward to helping them continue to stay on top. It's been an exciting 12 months that's for sure."
Since competing in Japan, Dale believes he is a more confident person, a more professional person and "my name is out there in the industry as being a top mechanic, so people really listen to what you have to say."
And in the next 12 months…
"Next year I'm going to focus more on the management side of my job and work towards one day owning and running my own business."
A few words for the competitors of Team Australia, Calgary 2009
"The next 12 months is absolutely critical, it is equally if not more important than the four days of competition. Over the next year you've not only got to train to be the best young trades person and competitor you can be, you've got to train to be prepared for anything, you never know what could happen over 4 days when you're in the 'pressure cooker'! Aside from that enjoy it, the next 12 months will fly buy and before you know it you'll be on a plain to Calgary so soak it all in guys. GOOD LUCK"!