Courtney Barton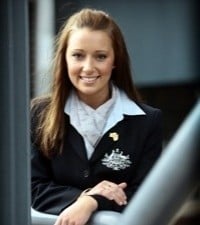 Courtney represents the Victorian Country region. She works at Flower Girls in Mornington and trained at the Marjorie Milner College. Courtney's category expert was Alan Randell-Smith from Interflora Florists.
Courtney has always had an interest in design, colour, arts and started her career in a Traineeship, which then led her to an Apprenticeship. Courtney has won awards in shows like the Melbourne Flower and Garden Show and the Interflora Victorian Florist of the Future Competition.
Courtney's success has given herself the confidence to work under pressure and the communication skills to take her service to the next level. She says that her success in WorldSkills has given not only herself, but also her workplace, much recognition in the community.
The ability to be creative with colour and design is what Courtney enjoys most about her work. She also likes that she has to use and update her knowledge to inform customers and make the right decisions.
Courtney would like to run a business of her own and believes she has the dedication and passion to continue learning and achieving new things.
Courteny completed the International Competition in Japan with a Medallion of Excellence.

Where is Courtney now?
For Courtney, like so many other Skillaroos the last 12 months have been spent working overseas.
"After experiencing two of the most amazing weeks of my life, I have to admit returning to Australia was quite difficult. I struggled to say goodbye to my fellow Skillaroos and accept that our 18 months of hard, yet enjoyable work had come to an end. However, I did have a great sense of pride and satisfaction in my results and achievements at the competition."
"Having finished the competition in 7th place, with a Medallion of Excellence, I was quite surprised, yet extremely flattered to have been approached by the Chief Expert of Floristry at the Presentation Ceremony and personally congratulated. It was this moment that reinforced the importance of how you present yourself at the competition. Your ability to work hard and well under pressure, your attitude towards the competition on a daily basis, and the respect you have for your experts and fellow competitors. I have come to understand that all of such attributes are considered when it comes to being presented with post-competition opportunities."
"I was very fortunate to have been offered a position by the Swiss Chief Expert as his very well regarded Florist in Switzerland. I had hoped to travel to Europe in 2008 and I was thrilled at the prospect of working abroad in my trade."
"I began working at hertigfleurs.ch in Fribourg, Switzerland, in June 2008 and will continue working until March 2009. It has been a wonderful learning experience, as I have further developed my skills and knowledge and overcome the many challenges I have faced along the way."
"I was also in the right part of the world at the right time, along with Candice and Holly, as I was invited to attend the WorldSkills International Youth Forum which was held in Vienna, Austria in September. This was another wonderful event that allowed me to represent Australia and put forward my ideas on how the future WorldSkills competitions can be further improved. This was also a great opportunity to see many of the familiar Australian faces that I have missed so much."
"Since competing in Japan, my life has changed immensely and I will be forever grateful to WorldSkills and the faces behind the organisation for the amazing experiences and opportunities it has presented. In actual fact, my life began to change after being announced as one of the 27 Skillaroos competitors, representing Australia in Floristry in Japan 2007."
"The 18 months leading up to this event provided me with endless opportunities to perfect my skill and prepare for the International level of competing. Myself and my Expert, Alan, and Mentor, Barbara, worked very well together and formed such a special bond throughout that time. I knew I had to be the most fortunate young florist in Australia at that time, as I was trained by some of Australia's most well-respected designers."
"My life after the competition has presented not only amazing career opportunities, but also many opportunities for personal growth. I have more confidence in my skill ability and my potential to continue succeeding on different levels in the future."
"I know in myself that I have changed and grown as a person. I am no longer that insecure, timid young girl who found it difficult to accept the rewards of her achievements. I am now happily reaping the benefits of all that I have worked so hard for and am most grateful for the continued support of WorldSkills and my friends and family."
"It is actually really hard to believe that it has already been 12 months since competing in Japan. I am so happy that many of us 2007 competitors have kept in contact, as we really did form many special friendships amongst the team. I look forward to meeting with a few of those special people in March 2009."
And in the next 12 months…
"I am quite anxious about the next 12 months, as I have many decisions to make when I return to Australia. This will involve where I choose to base myself and finding a workplace where I can utilize my new knowledge and skills that I have developed over the past two and a half years. I now have standards regarding my workplace and would find it difficult to settle in a place that doesn't enable me to do my best work."
"I will also be using the next 12 months to complete a (scholarship based) Business Management Course in preparation of having my own business in the near future."
"I am not unhappy about returning to Australia, as I have many future plans that I would like to begin preparing for, and not only that, I plan to stay quite involved with WorldSkills and offer my assistance in any way possible, where ever it may be needed."
A few words for the competitors of Team Australia, Calgary 2009
This amazing WorldSkills journey that you have now begun is the beginning of your careers and I cannot emphasise enough, the importance of the time, effort and hard work that is required of you from here on in. If you know yourself that you have given 100%, you will have great pride and satisfaction in your end result. No matter what that end result is or where you finish in the rankings, you are there and you are representing your country because you are the very best in your skill."
"Please remember that the opportunities after Calgary will be endless, as it's just the beginning. I wish you all the very best in Calgary and I am sure, as we did, you will also make Australia very proud. Enjoy the journey, the friendships and the experience of WorldSkills itself."