Shareena Sloan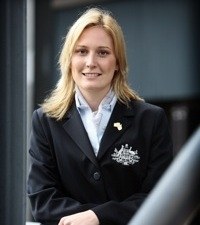 Shareena is from the Victorian Country region. Her employer is Keast Construction in Epping and she trained at Northern Melbourne Institute of TAFE in Heidelberg. The Painting and Decorating expert for 2007 was Ian Vickery from Hunter Institute of TAFE.
Shareena always knew she would take up a trade after school because she didn't want to be stuck in an office. Her interest in the painting and decorating industry was ignited after work experience during high school. She then began a pre-apprenticeship course and is now nearly fully qualified. Shareena believes it was the best decision she has made.
Shareena's favourite aspect of painting and decorating is working outdoors in the sun and fresh air. She also claims that the physical side of her job keeps her extremely fit.
One of her achievements was winning HIA's Most Outstanding Achievement Award, but says that entering the WorldSkills competitions was one of the best things she has done both personally and professionally.
Upon the completion of her apprenticeship Shareena hopes to travel overseas to work in Europe. She eventually wants to return to Australia to teach at TAFE and share her knowledge and experience with new apprentices.
Her further success in the future will even more possible after she receieved the international Medallion of Excellence for her skills over the 4 days at the 39th WorldSkills International Competiiton in 2007.