Sarah Rowsell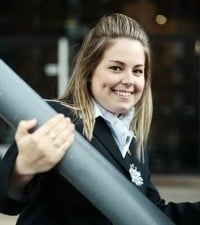 Sarah is from the Sydney region, New South Wales. She is currently employed at Quay in Sydney and trains at the Northern Sydney Institute of TAFE. The category expert was Brigitte Collins, also from Ryde TAFE.
Sarah entered her first competitions as a Vocational Education and Training student while she was studying at high school and working part time at a café. Following her achievements Sarah was awarded a scholarship to study at TAFE, which gave her a position in a Hospitality course. Her involvement with WorldSkills continued as she further competed and won gold medals for the regional and national open levels.
Sarah says she has WorldSkills and her trainers to thank for her interpersonal and hands on skills, and has already recommended the competitions to her sister, who won a silver medal.
Sarah enjoys being able to meet different people every day and provide them with a service that leaves them happy and satisfied. Another aspect about her career path is the ability to apply her skills not only to every day life, but also to any part of the world and in various roles.
Sarah is now a recipient of the 2007 international Medallion of Excellence after competing for 4 days at the 39th WorldSkills International Competition in Shizuoka, Japan.