Samuel Pop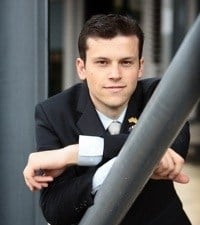 Samuel is from the Melbourne region, Victoria. He is a CNC Technician at Chisholme Institute in Dandenong. The MTC expert was Geoff Ball, who is employed by the Sydney Institute of TAFE.
Sam completed year 12 and applied for an apprenticeship at Robert Bosch Australia.
Sam enjoys the challenge of ensuring accuracy and precision in his work. He also likes the hands-on element in his field which demands great care.
Samuel won gold in the Turning category at the National Competition and was then invited to join the MTC trio with fellow team mates Josh Morsillo and Matt Nunn.
He says he would recommend others participate in WorldSkills competitions because of the career opportunities that are provided.
Samuel, along with Josh and Matt, was awared the international Medallion of Excellence for their demonstration of skills and team work over the 4 intensive days at the WorldSkills International Competition.
To find out more about the MTC team and read first-hand accounts of their experiences visit www.dsf.org.au/mtc2007
Where is Samuel now?
Since returning from Japan, husband and father of three Sam Pop has been enjoying his new job at Chisholm which according to Sam he was successful in getting due to his WorldSkills experience.
"My life has changed in many ways, but most important is the way I look at things. WorldSkills has opened my eyes to really see who I am. Also, working part of a team was great as I had learnt a lot from that."
"I now share with the others around me my experiences I had with WorldSkills, and encourage them to get into a trade they enjoy, because I look at it this way, if you enjoy what you are doing, you are going to do it very well which will make you stand out from others."
A few words for the competitors of Team Australia, Calgary 2009
"No matter what people say, you will always regret at least 1 thing after the competition. BUT most important give it your VERY BEST shot because you only get one chance."